Acoustic Guitar | Martin 000-28, 1945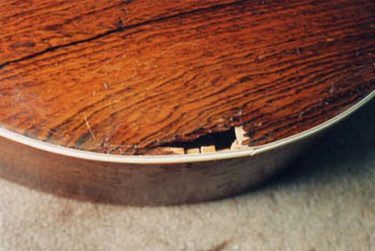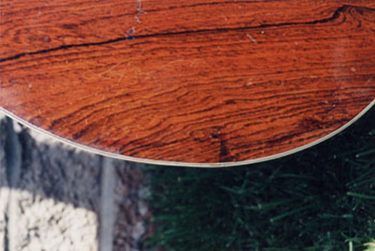 Repairing vintage Martin with a transplanting technique. This Martin '45 Model 000-28 was damaged and missing parts of the wood.
The most difficult element involved in repairing an old instrument is not the wood or the finish. The worst headache for the person repairing vintage instruments is dealing with the effects of time, a process that can't be stopped or reversed. The absolutely perfect repair does not exist, no matter what, because we can't control time.
I can, however, show you a small trick to deal with this kind of problem.
The photo shows a typical Brazilian rosewood grain. The color of the rosewood becomes lighter as it ages, because of the effect of various factors such as light or oxygen. But this effect is usually on the surface, so the color will change, even with a light sanding. That's why it is very difficult to repair this kind of damage with a new section of wood. For this reason, I always save old guitars for parts, and I use their wood with the old finish on it, especially for repairing vintage guitars with Brazilian rosewood. An old Washburn guitar that has been sitting in the corner of my workshop collecting dust was very helpful this time. I used the wood from the Washburn because it was made in the same era, so the feel and appearance of the wood grain and finish were very close.
The joint line of the new section should be made on the dark line of the grain as much as possible. As well, the template must be made exactly the same shape as the damaged part. To do this, I sometimes use my copy machine to copy and then trace the shape of the damaged part onto the wood, and this works well.
So, in this case, I chose the perfect spot to cut by using the copied paper to trace the shape onto my piece of wood, then cut it out and installed it. Making a new section using wood with an old finish is the most important thing at this stage. Another important point is that the new section should be slightly lower than the original finish. Otherwise, if the old finish on the new section is removed by sanding, the color will change, and then all efforts could be wasted.
To tell the truth, it was difficult to make every part level on this repair, so one spot turned dark. But it was not too serious, so I can say that I was satisfied with the result.
Here is another post of repairing this vintage Martin 000-28 using a different technique : https://shuriyaguitarcraft.com/adding-new-section-on-brazilian-rosewood/