Acoustic Guitar | 12 Strings Guitar, Gibson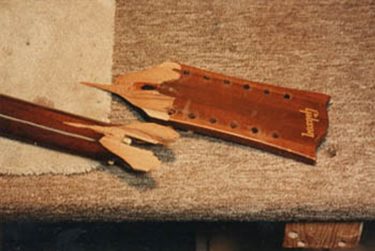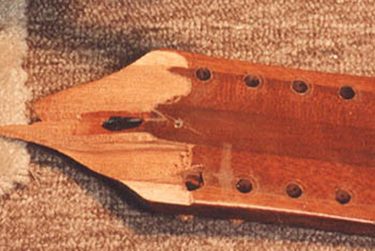 One of the most common requests at the guitar repair shop is for us to fix a broken guitar neck. Repairing this kind of damage with screws or a wood insert, or wrapping with fiberglass, was seen quite often in the 1960s and 1970s. But if it's a fresh break and the pieces to be glued fit reasonably well together, you can get enough strength to hold the string tension. If it broke again after somebody attempted to fix it improperly, a special technique will be required to make it strong again.
In this case, even regular wood glue was enough to do the job because it was a clean break. The only difference from a common head break in this case is that we had to repair the missing section on top of the head near the machine head hole for the first string.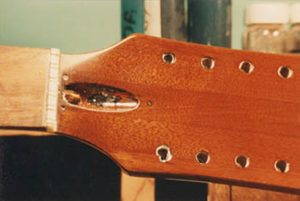 It is almost impossible to make the glue line invisible if it crosses the grain. If the glue line is along the grain, it will be almost invisible, but only if you choose the right wood.
The new mahogany section was glued diagonally in between the first and second machine head holes. Even I can't tell where the glue line is.