Violin Bass Guitar | Hofner Beatle Bass Guitar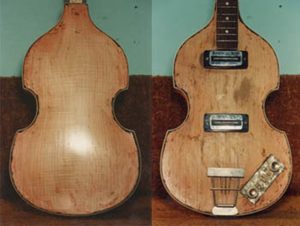 Restoration of a Hofner's violin bass guitar, which was made very famous by Paul McCartney, the bassist of the greatest rock band in history, The Beatles.
Description of main repair work:
– Restoration of the worn-off area
– Repairing the cracks
– Replacing the head plate
– Refretting
– Refinishing
The owner tried to refinish this Hofner and didn't strip off the original finish very well. As it was played for a long time without any finish, the spots where the fingers rest on were badly worn, and the top layer of plywood had been completely worn off in between the two pick-ups. There were many cracks on the first layer of plywood. Not only that, they became dark lines because color paint was rubbed into the cracks when the finish was stripped.
As some paint strippers "eat" plastic binding, you have to be careful not to touch it when applying the stripper. The Hofner was lucky in this case because the binding was not damaged.
After the neck was removed, the original finish on the binding had to be carefully scraped off. The top, back and side were sanded to roughly keep the same contour. The darker spots had to be breached, and every dent and worn off areas had to be filled with putty or wood filler for spruce. When all the filler had dried, the whole body was nicely sanded. Color was added after that to match the wood grain, drawn with a fine paintbrush where necessary. The loose layer of plywood and binding were already glued down, and preparation for refinishing had been accomplished.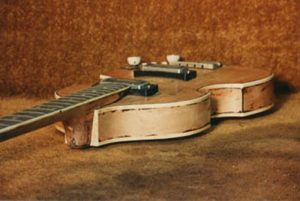 The loose heel had been fastened using wood screws. Though this is not a proper repair, this method can often be seen on old guitars.
The screw hole could be plugged and covered with finish, but it is better to change the whole heel if the finish is transparent.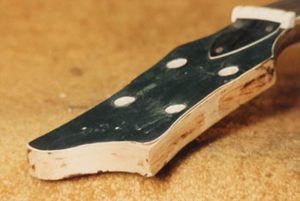 We had to replace the head plate, because the original plastic head plate came loose on the edge and was badly deformed.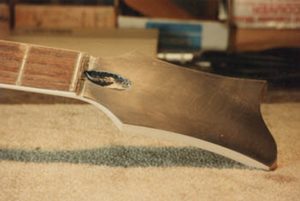 In order to make the worn, rounded edges on the headstock sharp again, the whole head needed to be made smaller. We had to make a two-ply black-and-white holly veneer for the head plate, because we had a hard time finding a plastic plate with exactly the same thickness.
The body and neck were finished separately and glued together later with a proper neck angle. When all the parts were installed, the restoration was complete.